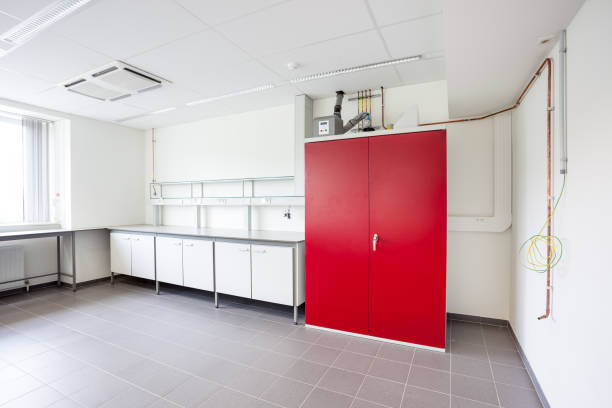 Chemical storage cabinets are an indispensable piece of furniture employed in labs that work with acids and chemicals. These models are designed and constructed for the safe storage of acids and hazardous chemicals. Cabinets storages are the containers with the sole purpose to guard the acids and chemical content against damage.
Check with manufacturers to provide you with standard or custom-made chemical storage cabinets for your business.
Why do we need chemical storage cabinets?
Installing chemical storage cabinets is a precautionary measure to guard expensive chemicals against damage. It also aids in the preservation of data on chemical supplies. A chemical storage record is mandatory to meet regulatory compliance but it also ensures employee safety and effective chemical inventory management( list of old chemicals or surplus chemicals). From manufacturing plants to hospital venues and educational institutes, some industries rely on storage cabinets to store hazardous chemicals and goods.
Here are some factors to consider while selecting the right storage cabinets:
What chemicals are used in your workplace?
Before buying a storage cabinet take some time to consider the chemicals you are likely to store in them. Every chemical has its distinctive features and carries specific risks. Refer to the safety data sheet (SDS) which will provide you with insights into the safe handling and storage of your products.
What is your storage requirement
?
While purchasing a storage cabinet consider the volume of chemicals you are likely to supply in the store.  The cabinet maximum capacity is displayed on the front of the cabinet. So the size of the cabinets must be proportional to the products stored in them.  Keep in mind there is plenty of room for future provisions. If you purchase a chemical cabinet too small for your supply you will be penalized for non-compliance. Overloading your cabinet will increase spillages and vapor emissions. Employees' lives and the workplace environment will be jeopardized as a result of this.
What types of packages will you store?
Chemical products are available in a variety of containers and sizes. Most cabinets include relocatable shelvings. This will help to adjust the cabinets to meet your current requirements. Remember different packages consume different amounts of space. So consider the dimensions of your chemical packages to determine the size of storage cabinets.
Will the cabinets remain suitable for a long duration?
While purchasing storage cabinets, consider your storage needs for the next 5 to 10 years. If your 160L flammable cabinets suit your current need, buying a 250L flammable cabinet will be cost-effective if your business continues to thrive in the next coming years. A storage cabinet should offer a long-term solution, so choose a model that will comfortably meet future needs.
Does the cabinet meet Australian Standards?
The Australian Standards are detailed documents that list specific requirements for the storage and handling of hazardous chemicals and goods. If a storage cabinet meets this requirement then you can be assured that your product offers the best possible risk protection.
Features for compliant toxic storage cabinet include
Double-walled sheet steel construction with thematic air barrier 40mm

Perforated steel shelving

self-closing, close-fitting doors held shut by catches at two points.

Dangerous goods and hazard signage.
Here are some keys for safe chemical storage:
All the containers of hazardous chemicals need to be labeled with the identity of the chemical and hazard warning

Store like chemicals together and away from another group of chemicals to avoid reactions in close contact.

Flammable chemicals should be stored in an approved storage cabinet

Chemicals should not be stored higher than eye level or on the top shelf of a storage unit

Avoid storing chemicals on the floor or traffic aisles.

Store acids in a dedicated acid container

Volatile or odorous chemicals must be stored in a ventilated cabinet

Look for unusual conditions in chemical storage areas like leaking containers, spilled chemicals, lack of labels.

Keep all chemicals especially flammable liquids away from heat and direct sunlight
Consider the above-discussed factors and consult with your dealer to provide you with the best chemical storage cabinet for your lab specification.